Windows 7 Premium Upgrade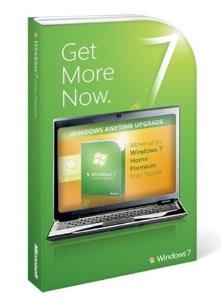 Windows 7 Home Premium (includes 64-bit version) makes it easy to create a home network and share all of your favourite photos, videos, and music--you can even watch, pause, rewind, and record TV.
Make the things you do every day easier with improved desktop navigation.
Start programs faster and more easily, and quickly find the documents you use most often.
Make your web experience faster, easier and safer than ever with Internet Explorer 8.
Easily create a home network and connect your PCs to a printer with Home Group.
US English
System Requirements:
Windows® 7 System Requirements

1GHz or faster 64-bit (x64) processor

1GB RAM (32-bit) / 2GB RAM (64-bit)

16GB available disk space (32-bit) / 20 GB (64-bit)

·

DirectX® 9 graphics device with WDDM 1.0 or higher driver
If you are upgrading from Windows XP, you will need to back up your files and settings, perform a clean install and then re-install your existing files, settings and programs.

Additional Requirements to use Certain Features:
·
Internet access (fees may apply)

·

Depending on resolution video playback may require additional memory and advanced graphics hardware

·

For some Windows Media Center functionality a TV tuner and additional hardware may be required

·

Windows Touch and Windows Tablet require specific hardware

·

HomeGroup requires a network and PCs with Windows 7

·

DVD/CD authoring requires a compatible optical drive

·

Music and sound require audio output

·

Windows XP Mode requires:

Additional 1GB of RAM

Additional 15GB of available disk space

Processor capable of hardware visualization, with Intel-VT or AMD-V turned on
Manufacturer: Microsoft Corporation
.
Condition: New
*Please Note, the software is original.*
More upgrades for Windows
© THE GROOVY GROUP® 1999 - 2023. All Rights Reserved.